Work With Us

EMPLOYMENT OPPORTUNITIES
Administrative

Artistic Instruction

Youth Employment

ADMINISTRATIVE
No openings at this time.

ARTISTIC INSTRUCTION
Teaching Artists/Instructors
Rolling application period
Accepting resumes for instructors in the following areas:
Instrumental Music- Piano, Guitar, Violin, Drums, Woodwinds & Brass
Vocal Music – Choral/Pop, Choral/Gospel, Musical Theatre, Voice Training
Acting & Creative Drama
Dance (various styles)
Film & Video
Electronic Music Production
Culinary Arts
**Early Childhood Music Education**
The Institute seeks part-time instructors with extensive teaching experience and professional/college degree in the art form to teach in our not-for-profit arts enrichment program. The Institute offers weekly classes (1-1.5 hours in length) to children and teens in a variety of art forms throughout the school year.

Institute instructors are energetic and creative – able to make learning fun and engaging while providing students with the necessary training to develop as artists. Collaborative work-style, strong classroom and time management skills, and a love for working with children are musts.
An ability to work with a range of ages is a plus as our classes are offered to multiple age groups.
Please send descriptive cover letter and resume to: This email address is being protected from spambots. You need JavaScript enabled to view it.


YOUTH EMPLOYMENT
Youth Leader
Applications accepted April- May 2017
Ages 16-23
Youth Leaders are high-achieving, arts-centered young people who are committed to providing the best possible learning environment for children. Youth Leaders receive 20-30 hours of unpaid, hands-on training annually and also commit to volunteering for the Institute throughout the year on an as-needed basis. Youth Leaders will also receive a full scholarship to attend classes at IMC during the school year.
Students ages 16 and up who have a high level of arts training and prior work experience can apply for a paid Youth Leader position.
Join us for our first Summer Youth Leader Job Fair on Saturday, May 6, 2017
Step 1: Register at summerleader.eventbrite.com by May 3, 2017
Step 2: Complete and return the Summer Youth Leader Application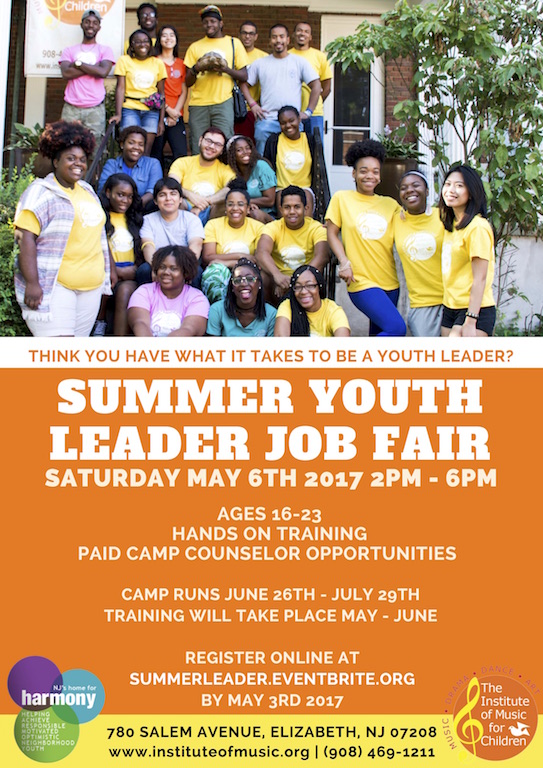 Participation in the Job Fair does not guarantee a job offer or acceptance as a Youth Leader for the Institute of Music for Children.