Summer Camp Production Letter to Parents
Summer Camp Production Letter to Parents with info regarding Production Week (new location), Costumes and info about the Performances
(ENGLISH & SPANISH)
July 19, 2018
Dear Parents,
Each year the Production students in grades 3-11 mount an original production written and
directed by our Executive Director, Alysia Souder. Usually the storylines touch on topics that we
see in our society and that either directly or indirectly impact our students.
 Our 2013 production, A Different Journey, tackled individuality & prejudice.
 Our 2015 production, The Law of 20, explored the importance of self-acceptance.
 Our 2017 production, The Star of Broadway, (this one was actually written by a student!);
told the story of a young girl who wanted to follow her dreams.
This year is no different. We are revising our first original play Light Years, which was produced
in 2012. Its storyline deals with the complexities of bullying on children, teens and adults and
will explore the impact that social media has on how youth relate to another.
While overall the story is a fun and light-hearted fantasy, there are some scenes that have a more
intense tone and explore some sensitive topics. We will explore bullying in its various forms and
how difficult it can be to respond to it. In our years of working and developing relationships with
children, we have witnessed the growing influence of social media and the excessive use and
dependency on electronics. Prior to finalizing the storyline, we gathered a group of students of
various ages to learn their opinions on how social media impacts them. Their response was
mature, thoughtful, and urgent. It was clear that our children felt strongly that this topic, which
could make some uncomfortable, needed to be talked about.
Our children are living in a time where an incredible amount of information comes quickly and
many times they are not equipped and feel overwhelmed or become confused about how to deal
with it. We hope that you can use this play to open a door that you may have not known how to
open or perhaps known that it needed to be opened. If you have discussed the internet and their
access to online communication with your child, we hope that you keep asking questions and
listening to them…as we have learned…they have a lot to say.
Thank you and enjoy Light Years 2018
Sincerely,
The Institute of Music for Children staff
22 de julio de 2018
Estimados padres de familia:
Cada año, los estudiantes de Producción en los grados 3-11 montan una producción original escrita y
dirigida por nuestra Directora Ejecutiva, Alysia Souder. Por lo general, los argumentos se refieren a
temas que vemos en nuestra sociedad y que impactan directa o indirectamente a nuestros
estudiantes.
 Nuestra producción de 2013, Un viaje diferente, abordó la individualidad y los prejuicios.
 Nuestra producción de 2015, The Law of 20, exploró la importancia de la autoaceptación.
 Nuestra producción de 2017, The Star of Broadway (¡esta fue escrita por un estudiante!); contó
la historia de una joven que quería seguir sus sueños.
Este año no es diferente. Estamos revisando nuestra primera obra original Light Years, que se produjo
en 2012. Su argumento se ocupa de las complejidades de la intimidación en niños, adolescentes y
adultos y explorará el impacto que tienen las redes sociales sobre cómo los jóvenes se relacionan con
otra.
Aunque en general la historia es una fantasía divertida y alegre, hay algunas escenas que tienen un
tono más intenso y exploran algunos temas delicados. Exploraremos la intimidación en sus diversas
formas y lo difícil que puede ser responderla. En nuestros años de trabajo y desarrollo de relaciones
con niños, hemos sido testigos de la creciente influencia de las redes sociales y el uso y dependencia
excesivos de la electrónica. Antes de finalizar la historia, reunimos a un grupo de estudiantes de
distintas edades para conocer sus opiniones sobre cómo las redes sociales los impactan. Su respuesta
fue madura, reflexiva y urgente. Estaba claro que nuestros hijos tenían la firme convicción de que era
necesario hablar de este tema, que podría ser incómodo.
Nuestros hijos viven en un tiempo en el que una cantidad increíble de información llega rápidamente
y muchas veces no están equipados y se sienten abrumados o confundidos acerca de cómo lidiar con
eso. Esperamos que pueda utilizar esta obra para abrir una puerta que quizás no haya sabido cómo
abrir o, tal vez, saber que era necesario abrirla. Si ha discutido sobre Internet y su acceso a la
comunicación en línea con su hijo, esperamos que siga haciendo preguntas y escuchándolos ... como
hemos aprendido ... tienen mucho que decir.
Gracias y disfruta Light Years 2018.
Sinceramente,
El personal del Instituto de Música para Niños
SUMMER PRODUCTION 3RD – 11TH GRADE
The 3rd -11th Grade Students have TWO (2) Performances at the end of camp.
We will be having our End-of-Summer Production at:
DATES: Friday, August 3rd, at 6:30pm and Saturday, August 4th at 12:30pm.
WHERE: Terence C. Reilly, School Number 7
436 1st Avenue, Elizabeth, NJ 07206
Entrance is on Loomis Street
COST: FREE (Bring family & friends)
PLEASE MARK YOUR CALENDAR FOR THESE IMPORTANT DATES!
IMPORTANT - LAST WEEK OF CAMP
Wednesday, August 1st
 Set Design Students – Will go to the Institute of Music
o 8am drop off & 3pm or 5pm pick up
 Acting, Band, Percussion, Dance, and Musical Theater Students will to go Terence C.
Reilly
o 8am drop off & 3pm or 5pm pick up
Thursday, August 2nd – ALL PRODUCTION STUDENTS WILL GO TO TERENCE C. REILLY
8am drop off & 3pm or 5pm pick up
Friday, August 3rd
All Day Rehearsal and First Performance Day
 Students must be dropped off at Terence C. Reilly by 8am.
 Students will stay the ENTIRE DAY - all the way to Showtime! Please make sure to pack a
good lunch, drinks, and plenty to drink. We will provide dinner (pizza money $3) if your
child cannot have pizza, please provide an alternative meal.
Performance time is 6:30pm. (Doors open at 6:15)
Saturday, August 4th
Second Performance Day
 Terence C. Reilly - DROP OFF TIME WILL BE ANNOUNCED
 Performance time is 12:30pm.
(Doors open at 12:15)
Your children have worked very hard and are looking forward to giving a great performance.
To ensure this we ask you to be sure that your child:
 Get plenty of rest
 Drink plenty of water
 Do not miss a day of class
 BE ON TIME
PRODUCCIÓN DE VERANO 3º - 11º GRADO
Los estudiantes de los grados 3º al 11 tienen DOS (2) Actuaciones como final de la temporada.
Este año vamos a tener nuestras Presentaciones-de-Fin-de- Verano en:
FECHAS: El viernes 3 de agosto a las 6:30 p.m. y el sábado 4 de agosto a las 12:30 p.m.
DÓNDE: Terence C. Reilly, School Number 7
436 1st Avenue, Elizabeth, NJ 07206
La entrada está en Loomis Street
COSTO: GRATIS (Traiga a la familia y amigos)
¡POR FAVOR MARQUE SU CALENDARIO PARA ESTAS FECHAS IMPORTANTES!
IMPORTANTE - ÚLTIMA SEMANA DE CAMPAMENTO
Miercoles, 1 de agosto
• estudiantes de diseño: irá al Instituto de Música –
a las 8 a.m. y a las 3pm o 5pm a recoger.
• Actuación, banda, percusión, danza y teatro musical. Los estudiantes irán a Terence C. Reilly:
a las 8am y a las 3pm o a las 5pm recogerán
Jueves, 2 de Agosto - TODOS LOS ESTUDIANTES DE PRODUCCIÓN IRÁN A TERENCE C.
REILLY - a las 8am y a las 3pm o a las 5pm recogerán
Viernes, 3 de agosto
Todo el dia de ensayo del día y el primer día de Presentacion
• Los estudiantes deben ser dejados en Terence C. Reilly a las 8am.
• Los estudiantes permanecerán TODO EL DÍA – hasta la hora de la Presentacion! Por favor,
asegúrese de llevar un buen almuerzo (dinero de la pizza - $3), bebidas, y mucha aqua. Habrá
cena, si su hijo no puede tener pizza, por favor provea una comida alternativa.
Hora de la Presentacion es 6:30. (Las puertas se abren a las 6:15)
Sábado, 4 de agosto
Segudo día de Presentacion
• Terence C. Reilly DROP OFF serán anunciados
Inicio del espectáculo: 12:30.
(Las puertas se abren a las 12:15)
Sus hijos han trabajado muy duro y están deseando dar un gran rendimiento.
Para asegurar esto le pedimos estar seguros de que su hijo:
 Descanse mucho
 Beber abundante agua
 No te pierdas un día de clase
 LLEGAR A TIEMPO
COSTUME NOTICE - For "Light Years" Production (for 3rd-11th Grade Students)
The production will travel through these time periods: Present Day, 50's, 80's & the Future.
We do not require you to buy anything, most items can be found at home. We will have some
clothing items available at the Institute as well.
La producción viajará a través de estos períodos de tiempo: presente día, 50s, 80s y El Futuro. No
requerimos que compre nada, la mayoría de los artículos se pueden encontrar en casa. Tendremos
algunos artículos de ropa disponibles en el Instituto también.
MUSICAL THEATRE, PERCUSSION & DANCE (Bring what costume(s) you have):
 Basic Covering (for underneath costume)
o Girls: Leotard or one-piece bathing suit, and shorts
o Boys: Tank top, Bathing suit or shorts
50's Costume (1 pair of shoes, Top, and Bottoms)
o Girls:
Shoes: White Keds, saddle shoes, loafer or simple flat and "bobby socks"

(white ankle socks)

Tops: Plain white blouse, cropped cardigan sweaters or polo shirts.

Bottoms: Capri pants, A-line skirts (to the knee or below) and blue jeans
o Boys:
Shoes: Converse sneakers or black casual shoes

Tops: Plaid or polo shirts, white t-shirts, button-down shirts with printed

ties or bow ties

Bottoms: Blue jeans or slacks
80's Costume (1 pair of shoes, Top and Bottoms)
Girls and Boys:
Bright sneakers, bright socks, regular or colored jeans, bright colored shirts,

warm-up suits, hoodies, and baseball caps.
Future Costume:
o Girls and Boys:
ALL WHITE (pants, t-shirt, skirt, or simple dress and shoes, etc.)
PLAY PRODUCTION:
Girls and Boys: 1 Present Day Outfit that reflects their character
*** Some students will also travel through time periods (see above for costumes);
SET DESIGN & BAND:
Girls and Boys:
ALL BLACK (pants, t-shirt, skirt, or simple dress and shoes, etc)
*** Some students will also travel through time periods (see above for costumes);
HAIR & MAKE-UP:
 Hair must be pulled off the face and secured with bobby pins and hair spray.
 NO big earrings, only studs.
 Simple blush, lip and eye color is allowed
ALL COSTUMES AND CLOTHING SENT WITH STUDENT BY TUESDAY, JULY NEED TO BE LABELED WITH THE STUDENT'S NAME! ¡
TODOS LOS TRAJES Y ROPA DEBEN SER ETIQUETADOS CON EL NOMBRE DEL
ESTUDIANTE!
Here are some examples of the type of clothing styles of each time period.
1950's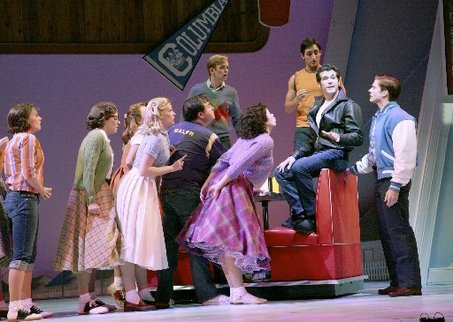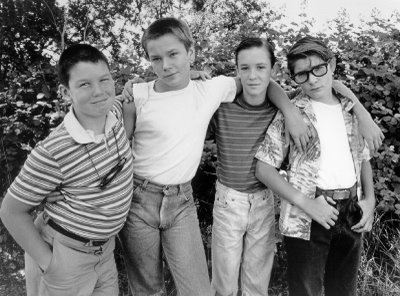 1980s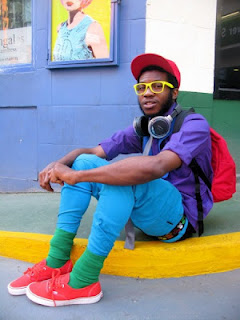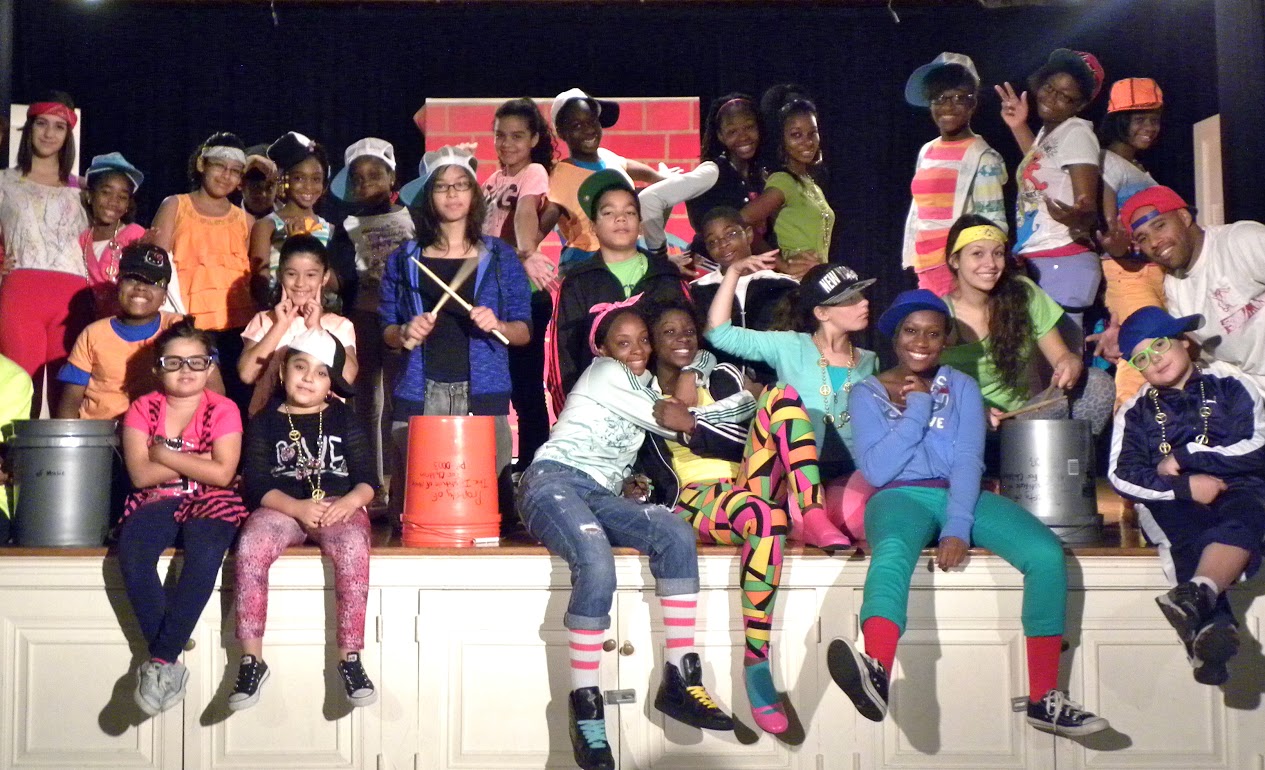 Production Teams:
Acting / Actores
Aurely Antonin
Nyobi Boddie
Alexis Boykins
Naira Campos-Sekou
Gabrielle Carter
Marshall Cherry
Jasiah Daleasandro
Isabella Ferrara
Rachael Filippone
Samaia Guzman
Gaeten Lexus
Mikayla McCoard
Ruth Mendoza
Amaya Miller
Laura Patino
Jadiel Perez
Madison Pierce
Danielle Pierre
Gabriela Rivera
Ashley Rakotoarivo
Maddax Salas
Sahara Simon
Angeline Wagner
Musical Theater
Teatro Musical
Giselle Arce
Jaidah Burgess
Sofia Candamil
Isabella Hogan
Alana Frederick
J'kye Harris
Veronica Heredia
Hailey Hoyes
Reydina Lawrence
Athenas Lozada
Kimberly Moreira
Imani Mosaisi
Allyson Palomino
Arielly Palomino
Laura Silva
Olivia Sokolosky
Zeyona Stokes
Dance / Baile
Amahl Adams
Alyssa Carter
Kyla Fair
Sophia Farid
Kayla Florestal
Veronica Heredia
Miah Levia
Emily Martinez
Christian Mitchell
Zariah Ordonez
Alexa Pino
Ester Sartori Teixeira
Makayla Simmons
Maya Simmons
Sahara Simon
Anaya St. Fluer
Jah'Nya Theodore
Michelle Tigre
Band / Banda
Daniel Aguilar
Helder Castro
Aiden Delpeche
Santiago Fernandez
Jayden Gauthier
Katherine Maradiaga
Natalie Maradiaga
Jonathan Martinez
Isaiah Mullings
Yaretzy Ramirez
Caio Lucas Sartori Teixeira
Jordan Torres
Percussion/Percusión
Gabriel Andrade
Gabe Begonia
Caleb Begonia
Ricardo Bembry
Niara Boddie
Shadyah Cabrera
Sebastian Cancel
Steven Enriquez
Jordan Espinhal
Mambia Mosaisi
Malea Muse
Katelynn Nascimento
Paul Oliveira
Dezeree Perez
Anton Rudolph, Jr.
Nicolas Sarmiento
Zamir Sellers
Kariem Sharif
Dakari Sheffield
Steven Vasquez
John Wagner
Set Design
Nichelle Burt
Ricardo Caceras
Isabella Cortes
Emma Demesmin-Edmond
Sarah Detrolio
Madison Fair
Alexzia Gray
Mairead Kidd
Luigi Marsiglia
Juan Patino
Melina Ramirez
Frankie Rosa
Yasmin Santos
Sierra Snow
Mikayla Wheeler-Franklin